Mental Fluency
Hawley Primary School subscribes to Times Table Rock Stars. This is a system that the children use to practise the instant recall of their multiplication and division facts, which helps them achieve on our Table Mountain reward scheme.
When it comes to times tables, speed AND accuracy are important – the more facts a child remembers, the easier it is for them to complete harder calculations. Times Table Rock Stars is a fun and challenging programme designed to help children master the times tables. To be a Times Table Rock Star they need to answer any multiplication fact up to 12×12 in less than 3 seconds!
World famous rock musicians are the best at what they do because they've spent hours practising guitar chords, writing music or playing on the drums. It's just the same with times tables – all Times Table Rock Stars need to practise and practise and practise.
Research shows that daily practise is the best strategy for children to learn these important facts. Short bursts of daily practise are much more effective than spending hours once a week.
Parental support is critical in this area. For children to be fully motivated and for them to get the best out of the practice, they need an adult's help. Without a Parent's praise and reminders, without sitting down together or checking their work, practising times tables will not feel important.
Each class or group within a class will be set a schedule of times tables to work on by their teacher.
The quicker a child can answer a times tables question, the higher their Rock Status.
≤ 1 sec/qu = Rock Hero

≤ 2 secs/qu = Rock Legend

≤ 3 secs/qu = Rock Star

≤ 4 secs = Headliner

≤ 5 secs/qu = Support Act

≤ 6 secs/qu = Breakthrough Artist

≤ 7 secs/qu = Unsigned Act

≤ 8 secs/qu = Gigger

≤ 9 secs/qu = Busker

≤ 10 secs/qu = Garage Rocker

> 10 secs/qu = Wannabe
Looking for ideas to support your child's times tables development? Take a look at the suggestions below:
*Read the times tables that are being focussed on that week (your child's teacher can let you know the schedule for your child and a list of all the times tables can be downloaded below). Do it a second time round but this time your child should be trying to say them without reading them from the page. It is more important that they say them correctly than say them quickly to begin with.
*Download the Scatter Tables below. To use them, you call out a question from the times table you are focusing on and your child should point to the answer on the page. For example, if you are concentrating on the 5 times table, then find the Scatter Table for the 5s and call out questions like, "9 times 5" (your child points to 45), "6 times 5" (your child points to 30) or "5 times 12" (your child points to 60). Your child should be trying to get them correct each time and not worrying about the speed.
*Write the focus times table out, initially in order and then in a random order
*Chant, rap or sing times table songs (try Percy Parker or MathsRockx)
*Ask your child to complete a TT Rockstars practise sheet that focusses on the table they are working on (again these can be downloaded below)
*Ask your child to complete a Table Mountain baseboard (the pro forma is downloadable below -just add the multiplication and division questions from the table your child is focussing on)
*Play TTRockstars online using the login card in your child's home school book. They should play for a short while until they are successfully answering the questions quickly. TTRockstars online can be accessed via https://beta.ttrockstars.com/ or using the app which is free to download.
Table Mountain
Alongside TT Rockstars we have a Hawley maths scheme called Table Mountain which the children engage in once a week. Children can work their way up the mountain by answering multiplication and division questions. Children aim to beat the clock and earn stickers to be awarded with their certificate once they reach the top of Table Mountain!
Tables are taught and assessed in an order that supports children in making connections between the facts. Eg., using doubles to support their understanding (6 x 4 is double 6 x 2).
Questions are set in the following order: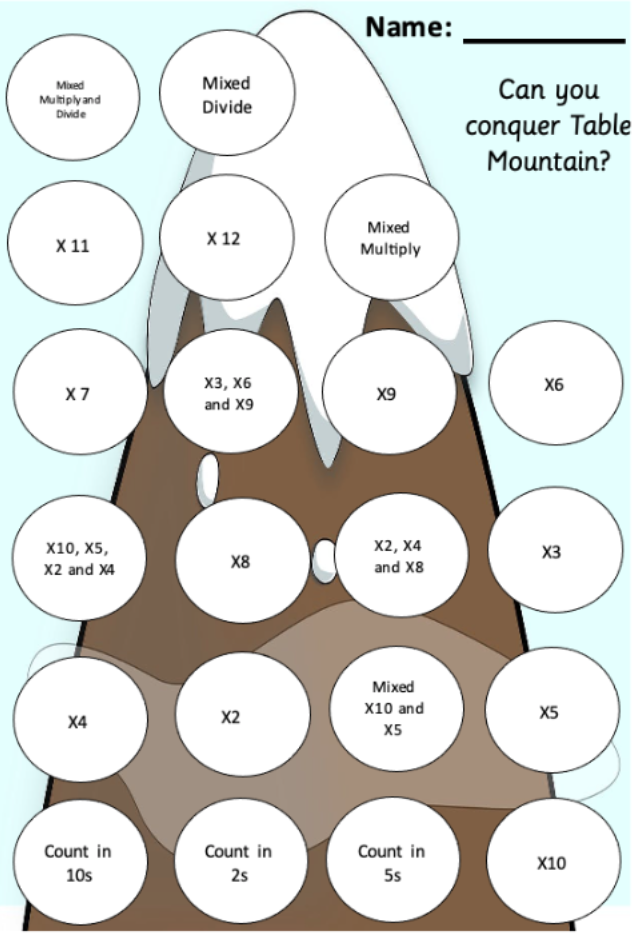 Count in 10s
Count in 2s
Count in 5s
x10
x5
x10 and x5
x 2
x4
x10, x5, x2 and x4
x8
x2, x4 and x8
x3
x6
x9
x3, x6 and x9
x7
x11
x12
Mixed Multiply
Mixed Divide
Mixed Multiply and Divide Top of Table Mountain
Once Table Mountain has been conquered, children access Mental Maths challenges which are pitched according to their year group. There are 4 levels to achieve before the children progress onto Reasoning Rainbow.
These are:
A = Aiming High
B = Brave
C = Confident
D = Determined
These levels support children in developing the essential heuristics needed for mathematical proficiency and relate to our Hawley values.
Finally, we reach Reasoning Rainbow! This is where the children are challenged to reason, question, conjecture and answer a variety of problem-solving tasks. These include: worded problems, multiple solution questions and logical reasoning tasks.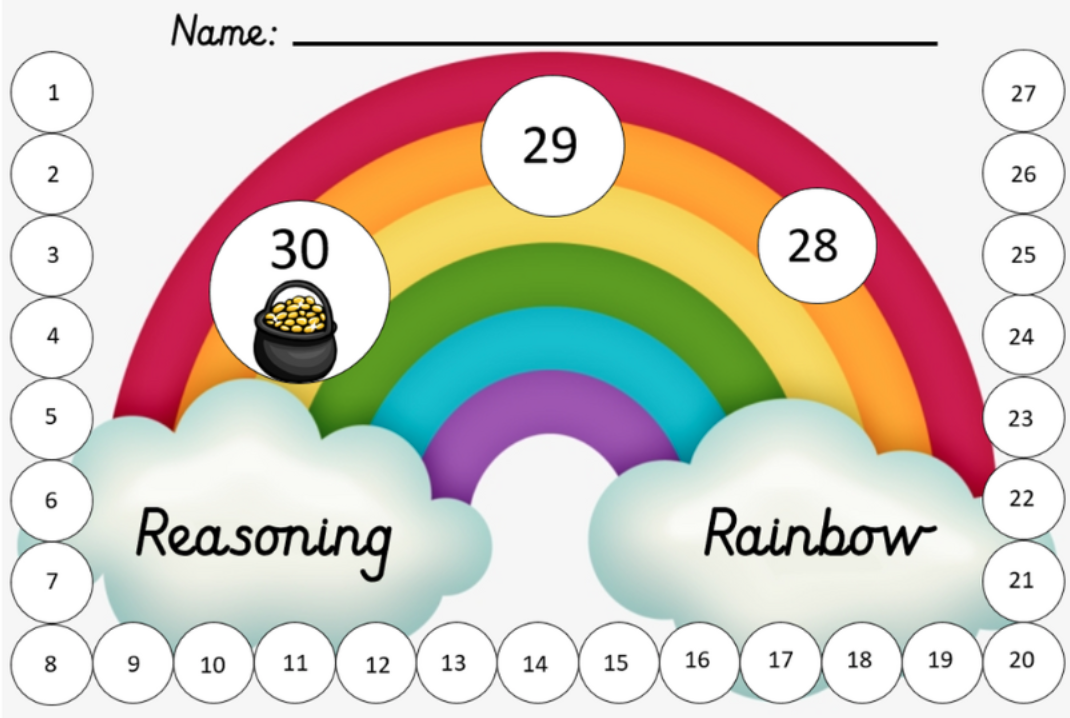 Similarly to Table Mountain, children are awarded with Mental Maths and Reasoning Rainbow certificates, at the end of each stage.